Nursing Care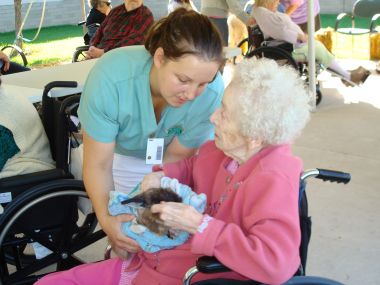 Grand Traverse Medical Care provides 24-hour skilled nursing care as well as a broad range of therapeutic, recreational, and nutritional services to 201 long-term care residents.
Private and semi-private suites offer handicap-accessible showers, breathtaking views of courtyards and terraces, and convenient access to Main Street, an exquisitely-decorated common area that connects each Pavilion to a community dining room, cafeteria and multi-purpose room.
The Pavilions offers free training for men and women interested in a career as Certified Nurse Aides (CNAs). These individuals provide direct care to the residents of our special community.
Grand Traverse Medical Care embraced the Eden Alternative program, one of an elite group of long-term care servers in the State to embrace the concept.
Alzheimer's and Related Dementia residents benefit from the therapeutic qualities of the Eden Alternative program with age exchanges, plants and animals in the residence, and intergenerational gardening activities.
The Pavilions is an affiliate of the Alzheimer's Association of Northwest Michigan and is a leader in the care of Alzheimer's. The Pavilions provides resident's with a homelike atmosphere with children, plants and animals to interact with.
For more information please click here