Therapy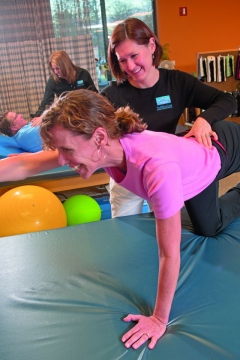 Physical Therapy:
Licensed physical therapists and physical therapy assistants design individualized exercise programs for individuals of all ages with a multitude of physical challenges. Physial therapists assess joint motion, muscle strength, sensation, balance, pain, and the safe preformance of functional ativities. After assessment, programs are then tailored to the participants needs and are designed to promote a long-lasting commitment to wellness and independence using a variety of techniques including aquatic therapy, theraputic exercise, manual skills, neuromuscular re-education, and patient education and training.
Occupational Therapy:
Occupational therapists and certified occupational therapy assistants work with individuals to increase independence in all areas of life, including work, self-care, and leisure. This would include individuals recovering from bone and tissue injuries of the hand, wrist, elbow, and/or shoulders. Some common diagnoses include arthritis, carpal tunnel syndrome, and disabilities caused by stroke.
Speech-Language Pathology:
Certified speech-language pathologists rehabilitate individuals affected by a variety of disorders, including speech, language, voice, swallowing, and cognitive deficits.
Aquatic Therapy:
Aquatic staff provides one-on-one skilled physical and occupational therapy in a state-of-the-art therapeutic pool. Our water temperature is 92 degrees and bromine (not chlorine) is used to ensure complete client comfort. Aquatic therapy is beneficial for individuals of all ages with a wide range of conditions including cerebral palsy, chronic pain, post surgical deficits, stroke, Parkinson's disease, and arthritis, to name a few.
Health and Fitness Programs
The Wellness Center offers the opportunity to participate in a variety of health and fitness programs. A rehabilitative environment supports both aquatic and land exercises. Consultation with a physician is recommended before participation.
Aftercare:
Upon completion of therapy The Wellness Center offers an Aftercare Program; if recommended by the therapist. The goal of this program is to provide participants who have been discharged from outpatient therapy the opportunity to use the Grand Traverse Pavilions Wellness Center pool and/or gym on their own with the individualized therapy program provided by thier therapist. The aftercare program is an out of pocket expense, not covered by insurance.
1:1 Personal Training:
Personal training offers a one-on-one exercise session with a program that has been initiated through a Physical or Occupational Therapist evaluation and/or treatment and carried out by a certified personal trainer. The program may include pool and/or gym sessions. The purpose is to encourage and support participants in working towards personal fitness gaols through a well planned, progressive exercise program leading to improvements in balance, strength, endurance, coordination, agility, and overall functional mobility to sustain an independent lifestyle.
Community Aquatic Classes:
Another way we encourage our health and wellness philosophy is with our community group aquatic exercise classes. Classes are designed to use the resistance of water for strengthening, toning, conditioning, imrpoving balance, coordination, and flexibility. Our certified aquatic instructor is able to help participants modify their work out to meet progressing fitness goals. Please click the link to learn more about our Aquatic Classes.